Hey all! We'll be hosting a beta test for a new Scouts Log feature Wed afternoon at 3 pm US ET. Please pop into Eyewire at that time for more information! I'll also update this thread before beta testing begins.
This new feature makes it so you no longer have to log then reap. When you hit reap, a popup will appear asking for tag, allowing notes, and displaying a screenshot. Notably we are departing from Status and Issue Flag in favor of Issues and Next Action, the latter of which determines where the cube goes next.
Here's a screenshot of the working prototype: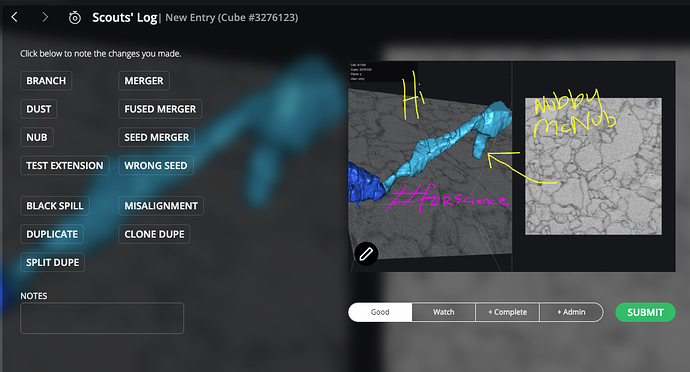 To beta:
visit https://dev1.eyewire.org/login in a Chrome incognito window
sign in (Artifact 12.81 is meshed)
reap or flag some cubes and see if you can break anything or spot the cubes not showing up etc.
test editing an entry
Admins will be online from 3-3:30. Let us know of any bugs you find during that window in chat, otherwise using the feedback form below.
Please be sure to fill out the feedback form so that we can incorporate your thoughts into the feature and give you the beta tester badge! https://goo.gl/forms/S27nx36k03qP5fdi1
For players using KK's quickreap script: we've been working with KK, who has already had a chance to see this new feature. We're pleased to share that he's working on an update that will allow quickreap to work with this, so you will be able to reap+log with one click
We're hoping to deploy it natively site wide soon.