I don't know if this is the best place to do this but I felt like a single topic for future bugs in the forum would be preferred to many topics with 1 bug each. If not, then these 2 bugs will look out for one another here until they're squashed.
The first one is probably well-known & it's that the profile history no longer shows a graph of your recent progress, instead showing a vacancy under the accuracy & period options.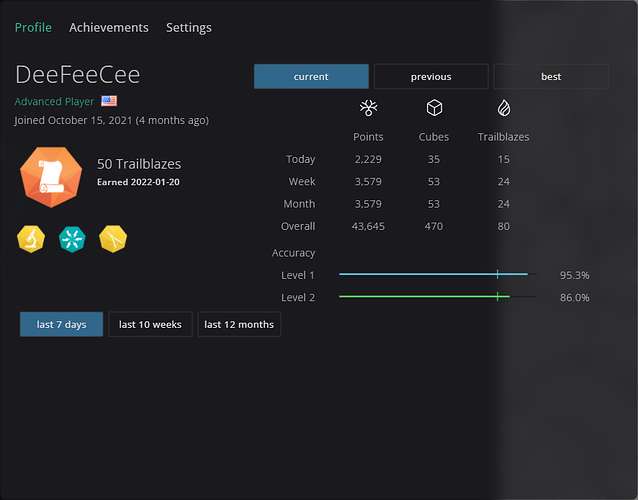 The second bug is not just nice but is a part of the debug command. When playing or inspecting cubes, the debug window correctly displays the cell ID, center, cube ID, & last seg. In the overview, however, the cube ID & last seg get stuck & do not update when clicking on other cubes.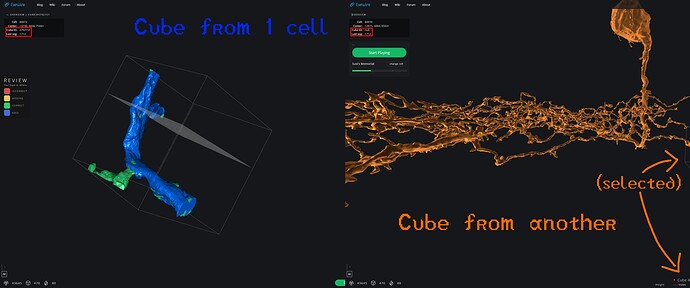 The Cube ID is properly displayed at the bottom of the screen (learned about that today, whoops), so this isn't necessarily vital to fix ASAP, but the cube ID & last segment displayed is from the previous cube (sometimes null).
Closer view:
Bonus: The Workshop addon doesn't appear to work properly for anyone. As this is an addon & not part of the core game, I don't think this is a real bug, but I nevertheless wanted to make it known here on the forums. For those unfamiliar, it's kinda like http://museum.eyewire.org/ except you can choose anywhich neurons you want to display. By the way, a link to the museum in the game would be awesome since I always forget what it's called & have to search for it on Bing.